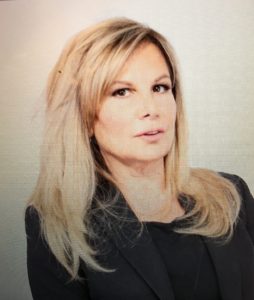 I'm a girl from New Jersey born with lots of energy, optimism and curiosity.  Always interested in people's backstories, I would interview friends and relatives about everything from their experiences at the butcher to Sunday dinners with the relatives.  And there were lots of relatives – some loud, some quiet, always interesting,
I would write stories on Saturday afternoons on the dining room table while the other girls were dressing their Barbie's.  Don't get me wrong, I loved Barbie, but I preferred spending my time writing about the latest news at school, in the neighborhood or at home.  Never a shortage of stories.
Naturally that curiosity led me to journalism where I started writing for newspapers in Sarasota, Florida (my parents, Edith and Tony Zara, moved there in my teen years).  That quickly led me to jobs as a writer in New York for Good Morning America, The CBS Morning News, WWOR-TV until I was eventually tapped to work in front of the camera as an anchor/reporter in Salisbury, Md. and Atlantic City, N.J. where one magazine called me "the girl with the Coppertone tan more driven than Donald Trump and Diane Sawyer."  That quickly landed me in New York at WNET/New Jersey Network News, but not for long because I got married and within a few months moved to Los Angeles with my husband, John, host of the #1 rated "The John and Ken Show."  In L.A.
I worked as a reporter for KCAL-9 News, Fox 11 News and CNN, covering news, business, sports and entertainment.  I loved every minute of it.  After having three amazing boys, I took a break from full time reporting to get involved with mom life, always keeping up my writing and reporting as a TV freelancer.  But with lots to say, particularly in this political and exciting time in business and the internet, I decided to jump back into work and create my own show, "Deborah Kobylt LIVE," which was encouraged by journalist friends who started podcasting.  I loved the free form of podcasting and now I'm committing to making my own show – no restrictions – focusing on High Performance People and what inspires them, motivates them and drives them.  So here I am, the girl from New Jersey living the high life in Los Angeles, always missing the relatives I left behind but always encouraged every day at the impact I can have on the stories I write and people I interview.  Thanks for being here and for tuning in.
xo, Deborah
Deborah Zara Kobylt is an award winning journalist best known for her work at CNN, Turner Entertainment; Fox-11 News Los Angeles.
Katherine Switzer

John Gray

Sloan Bella

Michael Reagan

Jennifer Jolly

John Kobylt

Suze Yalof Schwartz